Real Estate Litigation
At times, the condition of a home or building, the ownership rights to property or contractual issues involving the sale or construction of property will become the focus of a dispute. Helping clients resolve disputes involving disclosure issues, boundary lines, title issues, contractual matters, landlord tenant issues and other litigation matters is the focus of The Granger Firm. Real estate itself is usually unique and disputes involving real estate tend to have multiple parties with differing goals. Therefore, solving disputes often involves resolving complex issues, requiring individual assessments and strategies that depend on a host of factors. With litigation becoming the tool of choice for parties involved in a dispute, it is crucial that parties to real estate disputes (whether individuals or businesses) obtain advice that combines superior knowledge of the laws governing real estate with real life experience inside and outside the courtroom.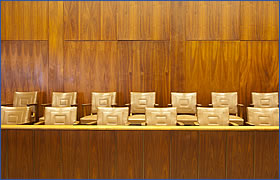 The Granger Firm handles residential and commercial real estate based litigation throughout the state and federal courts of Pennsylvania as well as before regulatory agencies and municipalities. The Firm is thoroughly experienced in handling real estate litigation from inception through trial and the appellate process. A significant part of the practice is handling title and boundary disputes, construction defect cases (including stucco litigation), failed real estate deals, disclosure cases and landlord/tenant disputes (including evictions). The Firm's clients include major title insurers, real estate brokerages, builders, consumers and commercial lenders. The firm's principals combine over fifty years of experience in handling and litigating real estate matters, including boundary disputes, adverse possession cases, partition matters, disclosure litigation, title matters, contractor disputes, mechanic liens, landlord tenant disputes, partnership disputes and breach of contract cases. Importantly, prior to putting any matter into litigation, the attorneys at The Granger Firm will review with the client the strengths and weaknesses of the case, whether the cost of litigation makes sense, possible alternative resolutions to avoid litigation, and whether mediation would be a reasonable avenue to resolve the case both prior to and during litigation.
The Granger Firm distinguishes itself from other firms that have multiple practice areas. Because our attorneys concentrate only on real estate matters, the client is not paying for the education of its attorney on what are basic real estate fundamentals to the attorneys at The Granger Firm. When real property issues are involved, the experience and knowledge of The Granger Firm attorneys is an asset to any client.
The Firm's litigation practice has successfully handled hundreds of cases for lenders, builders, real estate brokers, buyers, sellers and other property owners. The Firm has made substantial recoveries in numerous cases involving construction defects, seller disclosure and failed real estate deals. Our attorneys have defended lenders, brokers, builders and businesses in significant commercial litigation and title matters, winning very favorable results with cost efficiency for the client.
The Firm's real estate litigation practice has resulted in significant favorable published opinions in the state and federal courts of Pennsylvania as follows:
Janus Management Services, Inc. v. Schlessinger, 810 A.2d 637 (Pa.Super. 2002). Counsel for Amicus Curiae Pennsylvania Land Title Association
The Delaware Nation v. Pennsylvania, 446 F.3d 410 (3rd Cir. 2006)
Riverwatch Condominium Owners Association v. Restoration Development Corporation, et al., 931 A.2d 133 (Pa.Commonwealth Ct. 2007)
Ridings at Brandywine Associates, LP. v. Citizens Bank, (originally marked "Opinion not Reported", then subsequently reported at 388 B.R. 99 (Bkrtcy D.N.J. 2008), affirmed at 60 Collier Bankr. Cas. 2d (MB) 925 (USDNJ 2008).
Riverwatch Condominium Owners Association v. Restoration Development Corporation, et al., 980 A.2d 674 (Pa.Commonwealth Ct. 2009)
Shipley Fuels Marketing, LLC v. Medrow, et al., 37 A.3d 1215 (Pa.Superior Ct. 2012)
Lincoln Investors, L.P. v. King, et al., 152 A.3d 382 (Pa.Commw. 2015)
City of Philadelphia v. Galdo, 194 A.3d 1043 (Pa. 2019)
Litigation Practice Areas
Adverse Possession
Blighted Property
Boundary Disputes
Broker Commissions
Builder/Owner Disputes
Buyer/Seller Disputes
Conditional Use
Construction Defects
Construction Disputes
Deposit Disputes
Ejectments
Errors and Omissions Defense
Evictions
Failure to Disclose
Inspection Disputes
Land Use
Landlord/Tenant Disputes
Lien Priority
Mechanic's Liens
Mediations
Municipal Enforcement
Partition
Quiet Title
Real Estate Commission Matters
Recoupment
Special Exceptions
Tax Assessment Appeals
Title Claims
Title Defects
Title Disputes
Variances
Zoning Relief